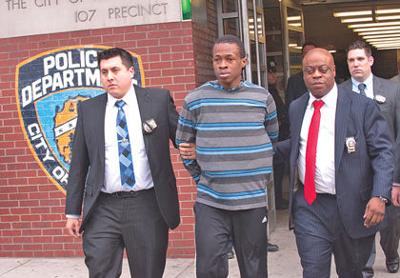 By Matt Waters, Queens Chronicle
https://www.qchron.com/editions/queenswide/mistrial-declared-in-chanel-lewis-trial/article_d32df80a-5fbd-5910-9606-fcdd21a71073.html
The murder of 30-year-old resident Karina Vetrano haunted Howard Beach and became a national story. Those hoping for a sense of closure in the form of a verdict on the person eventually apprehended and accused of the crime were not provided any on the night of Nov. 20.
And that was because the seven women and five men making up the jury in the trial of Chanel Lewis said they had reached a deadlock.
"We are split," the panel said in a note, according to a Daily News report. "It doesn't seem we are able to make progress one way or another."
The publication added that the judge presiding over the case, Michael Aloise, said that the hung jury left him no choice but to declare a mistrial. Prosecutors will retry the case. The court date is Jan. 22, 2019.
Lewis, a 22-year-old man from Brooklyn, will remain in custody. His four-count indictment includes murder and sexual assault charges.
Vinoo Varghese, a prominent Manhattan defense attorney who is a former prosecutor, told the Chronicle in an interview last Wednesday that he was surprised by how events unfolded.
"My initial thought was that it didn't make sense to declare a mistrial after a day and a half," Varghese said.
He thought it was a textbook situation calling for an Allen Charge.
The online Wex legal dictionary defines an Allen Charge as an instruction given by a court to a deadlocked jury to continue deliberating until it reaches a verdict. The U.S. Supreme Court upheld its use in 1896. Some states prohibit the Allen Charge. It is permitted in New York.
Varghese would not attempt to speculate on Aloise's reason for declaring the mistrial so soon after closing arguments, but he did credit the Legal Aid attorneys Robert Moeller and Jenny Chung for their strategy.
"I applaud the public defenders," he said. "DNA is not 100 percent and confessions can be tainted."
Varghese's most detailed thoughts had to do with the tone of the case as a whole. It was one he felt undermined the prosecution, especially during the pivotal closing argument.
He thought the Vetrano press conference in August 2016 was possibly too combative. Varghese noted that these were parents who had lost their daughter, an incomprehensible experience for anyone to imagine. But Varghese also believed that press conference had a tone of "trying to get somebody." He also argued that Queens DA Brad Leventhal's closing statement, an aspect of which portrayed Lewis as an angry, unemployed loner, was inconclusive.
"How does that make him a murderer?" Varghese exclaimed, regarding Leventhal's description of Lewis. He gave his opinion that prosecutors are given far too much leeway during trials to be "over-the-top" in portrayals of defendants.
"They can say anything," Varghese claimed.
As to whether the prosecution or defense would have the advantage in a retrial, he did not believe the circumstances favored one side or the other.
"Whoever the better lawyers are will have the advantage," Varghese said.
He did not think the prosecution team should necessarily feel like they are on the defensive but thought they needed to "learn from their mistakes."
The Chronicle queried the DA's office about what could happen at the Jan. 22 court date.
"It is unclear what will take place at this time," said Ann Marie Turton, assistant public information officer with the DA's office, in an email.
Lewis had been brought in for questioning on Feb. 4, 2017.
Prosecutors say DNA evidence linked him to both Vetrano's body and cell phone. The police had videotaped his confession, wherein he seemed to know details only someone who had directly encountered Vetrano on that day would, such as the clothes she was wearing. There was also his hand injury, which was described in writing by a doctor as a "classic boxer's injury." Lewis also said in the confession tape that Vetrano didn't scream because "her tooth broke."
Lewis' attorney Moeller questioned the prosecution's DNA evidence during his closing statement on Nov. 19.
He said the crime scene had been corrupted due to Vetrano's father cradling his daughter's body after he discovered her, along with the police, on a trail in Spring Creek Park. And he also argued there had been no DNA evidence found on Vetrano that would directly indicate a sexual assault had taken place. Vetrano was discovered partially naked.
The Legal Aid Society released a statement following Judge Aloise's declaration of a mistrial.
"As we have said since day one, this case is far from conclusive and the jury's deadlock proves this. The death of Karina Vetrano is tragic and our hearts go out to her family, but the rush to criminalize our client is not the answer nor is it justice. We will continue to fight on behalf of Chanel Lewis at the retrial in January."
The investigation had seemed to stall before Det. Lt. John Russo of the NYPD, who lives in Howard Beach, played an educated hunch about a person he had randomly encountered months prior.
Russo ultimately conducted a search on Lewis one day after noticing him wearing unseasonable clothing on a warm spring day and acting suspiciously near the detective's home.
When he recommended to detectives several months later that they consider Lewis as a person of interest in Vetrano's murder, the case had its break.